Volunteer Opportunities
School Year | 2013-2014
Thank you for expressing interest in volunteering for the students at St. George Parish School. The school and PTA are in constant need of volunteers to help with all of the many programs and fundraisers we sponsor each year. We have a place for everyone, whether your time commitment is large or small. Your contribution of time and effort will directly help all St. George students and is greatly appreciated.
As of February 2014, we need volunteers in the following areas:
Auction Volunteers
Elissa Martino, our Auction Volunteers' Coordinator, created our on-line sign up system via SignUpGenius. Just click on the sign-up button below to volunteer.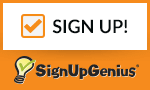 ---
Regular recess duty volunteers
We are always in need of regular recess duty volunteers from 11:30-1:00. If you can commit to one day a week or a more modified schedule please contact the school office. The duty comes with a fabulous orange vest!
---
Volunteers In Action
---
Safe Environment Program
The Archdiocese of Seattle has had a long commitment to the protection of children, youth and vulnerable adults. For more than twenty years, the Archdiocese has taken steps to assure the safety of those who are served in our parishes, schools and agencies. With the promulgation of this updated policy, we expand upon our historical efforts as we move beyond compliance and toward conversion...
learn more »