From The Principal's Desk
February 6, 2014 | Monica Wingard
Dear St. George Friends,
You have blessed us, O God, with the gift of friendship, the bonding of persons in a circle of love. We thank you for such a blessing: for friends who love us, who share our sorrows, who laugh with us in celebration, who bear our pain, who need us as we need them, who weep as we weep, who hold us when words fail, and who give us the freedom to be ourselves. Bless our friends with health, wholeness, life and love. Amen. Prayer for Friendship
Congratulations to the Seahawks, over 2/3rds of our students attended the parade with their families. The rest of us had educational games and art projects for the kids, and we also live-streamed the celebration. Thanks to the team for a fantastic season!
THANK YOU to all who have shown friendship and care to the de los Santos family. With everyone's help, $8,000 was raised in cash and gift cards to support Michael and his family during his medical journey. Many families have asked if they can bring meals to the family during the next two months since their days are filled with running to and from Children's hospital. I have set up an on-line website for Dinner Delivery on specific nights of the week. To sign up, go to: www.SignUpGenius.com/go/9040844ADA72FA75-dinners/15410974. We all are cooking dinner anyway... why not double your recipe!
Valentine Challenge! At prayer service this week, we discussed how during the post-game interviews, each Seahawk player talked about teamwork, and supportive teammates who came to work with the same attitude and heart. They knew that their teammates always had their back. I likened St. George to the Seahawks. We are families of like hearts who come together and build community. We support each other in good times and bad. We love each other for the unique qualities each has been blessed with by God. With Valentine's day around the corner when kids celebrate friendships, I challenged the students that instead of buying Valentine's cards from the store, this year each student could make his or her own. On each card, they could celebrate and honor their friendships in their classrooms by giving each person a compliment or a thank you. When we focus on the wonderful qualities of each person, we come to respect and understand the richness of our community.
Puttin' on the Ritz!.....Our Auction is in 6 weeks!
Get your procurement donation into our office between now and February 7th at 10:00AM and be entered into a drawing for $50 credit towards your March registration fee! We'll give you one entry per item donated/procured with a $50 value or more! The more you donate or procure now, the better your chance at winning the $50 credit! All donated items are due March 7th, 2014 in order to get credit for fundraising in this year's fiscal calendar.
Wed. February 12th at 6:30PM PTA is sponsoring a parent education class presented by Jonelle Matsushima called "How our children are learning to Live Pono". We create peaceful environments and reduce violent confrontations when we enable our children to become effective problem solvers. Living Pono and finding peaceful resolutions thru skill building are just some of the ways that assist us in finding balance within our lives.
Save the Date: St. George Open House: Curriculum Walk, February 13th, 6:00pm-7:30pm. Come tour every classroom in our 5 main buildings, meet the teachers and hear the kids explain their work on display. Bring a perspective school family with you on the tour, and get a ticket from me to be entered into our drawing for a $25.00 Safeway card! Bring three families, get three chances to win! Let's celebrate the "knowledge" and hard work of our children and spread the word to others about the strengths of our school community. As a bonus, PTA will be selling pizza and drinks for dinner in the cafeteria. School will be closed Februar17-February 21 for mid-winter break due to the lateness of Easter vacation April 21-25. 15 weeks is too long of a haul for kids, parents and teachers! For those of you who are going the to the Fil-Am's 20th Anniversary Valentine's Dinner Dance this Saturday, I'll see you on the dance floor!
So proud to be a dragon! Monica Wingard

About Me
I am a Seattle native and a product of twelve years of Catholic education. I graduated from the University of Washington with a degree in English. My diverse teaching background includes experience in both the Catholic and public...
continue reading »
dinners for the delos santos family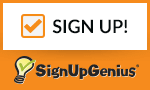 With their days spent running back and forth to Children's Hospital for Michael's treatment, there is no time to for Joe to prepare a meal at home. We can continue to support the de los Santos Family for the next few months by bringing a fully cooked meal to their home three days a week. There are NO DIETARY restrictions or allergies in the family.