From The Principal's Desk
April 16, 2014 | Monica Wingard
Dear St. George Families,
But seek first his kingdom and his righteousness, and all these things will be given to you as well. Matthew 6:33
"Matthew 6:33". That is what Seahawk Russell Wilson wrote above his name when signing an autograph for one of our students last week. I imagine that, like us, Russell Wilson is especially focused on putting God first in his life this Lent and hopefully, always. Amazingly when we put God first, the rest of our lives fall in place. We are not guaranteed an easy life, yet we are promised one that is filled with infinite love and peace.
In the words of the sinner on the cross next to Jesus, I pray: Jesus, remember us, Your people at St. George, when You come into your kingdom.
REMINDER: Good Friday is a FULL DAY with a 3:00 dismissal and Extended care until 6:00PM. We welcome everyone to Stations of the Cross at 8:30AM lead by the 5th grade.
Thanks to all of you who participated in the Multicultural Fair. The food was delicious and the entertainment fantastic. It was so wonderful to see St. George's own students sharing their talents with us!
Family Day of Service/BBQ – Sunday May 4th- Catholic Social Teaching and the values learned from Service Learning are an intricate part of Catholic faith formation. And, who models this best for children than their parents! Please join us as our Parish and School families come together in a day of service to take care of our campus buildings.
Come to the 10:30 May Crowning Mass (led by the preschoolers and kindergartners) dressed for service. After Mass, we will divide and conquer. There will be a number of tasks to do: flower bed cleaning, shrub pruning, clearing out closets, furniture disposal. St. Vincent de Paul will also have a truck on campus for those of us who are already spring cleaning closets at home. The Knights of Columbus will be hosting a BBQ at 3:00 for all the workers so please RSVP to mwingard@saintgeorgeseattle.org by May 1st so that the Knights of Columbus have time to shop for YOUR burgers! I hope to see everyone there.
Happy Easter!
Monica Wingard
About Me
I am a Seattle native and a product of twelve years of Catholic education. I graduated from the University of Washington with a degree in English. My diverse teaching background includes experience in both the Catholic and public...
continue reading »
dinners for the delos santos family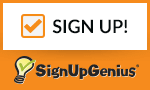 With their days spent running back and forth to Children's Hospital for Michael's treatment, there is no time to for Joe to prepare a meal at home. We can continue to support the de los Santos Family for the next few months by bringing a fully cooked meal to their home three days a week. There are NO DIETARY restrictions or allergies in the family.